By Altair's Global Consulting Services Team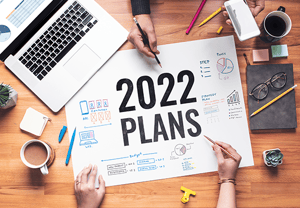 As we approach 2022, Altair's Global Consulting Services team has reflected upon the notable changes we've observed over the last 18 months as a result of the pandemic and the residual impacts. In our engagements, the team is uniquely positioned to recognize the leading edges of trends, and we hope those compiled below prove to be a validation for changes you may be considering for your company's program in 2022.
Key Residual Impacts and Challenges of the Pandemic:
A continuing acute focus on supply chain management given the ongoing capacity issues/logistical strain on mobility service providers as a result of the pandemic-related disruptions

A dedication to meeting each mobility team where they are in managing through their unique pandemic-related challenges, recognizing that these challenges are widely varied and may be logistical, financial and/or talent-driven depending on the industry, geographic locations, talent profiles targeted, etc.

A strengthened and resilient focus on duty of care as an overarching driver of benefits for many companies and how those goals can be best supported throughout the mobility lifecycle

A need to continue guiding mobility constituents through the complexities and risks of accommodating remote or hybrid work arrangements and helping them strategize about how to best overcome ongoing and emerging drivers of reluctance to relocate
Foreseeable Changes to the Mobility Industry in 2022 and Beyond:
A continued movement toward supporting highly-individualized/bespoke benefits packages that take flexible program structures to the next level with benefits that react nimbly to a wide array of factors such as location, family issues, business motivation of transfers or assignments, budget constraints, market conditions and customer preferences for high-touch versus low-touch/high-tech mobility experiences

An increased focus on sustainability in mobility activities and supply chain operations and leveraging opportunities to offset the impacts of physical moves with carbon offsets, shifts toward renewable resources, adoption of and investments in clean energy strategies, etc.

Leveraging the collective learnings of the pandemic toward contingency planning in order to optimize the positioning of the corporate mobility team and the mobility supply chain for future disruptions
Other Resolutions to Consider for 2022:
Begin to formulate the decision factors from a mobility-policy perspective that qualify opportunities as remote-work eligible and navigate the intersection of mobility support and the unique needs and expectations of remote or geographically distributed employees

Leverage the unique disciplines of day-to-day mobility operations to benefit adjacent HR initiatives such as remote work/distributed workforce management and diversity, equity and inclusion initiatives

Seek support for investments in tools and resources to track mobilized employees' time spent in a particular location to complement tax/immigration compliance and risk mitigation related to remote work arrangements

Apply a keen eye to policies and practices to remove any barriers to equality and fair treatment of your company's diverse employee profiles
If the mobility industry has collectively learned nothing else over the recent past, to expect the unexpected is emerging as the legacy of our time. As we wrap up 2021 and look ahead to what's next, consider an exercise of putting your policies and practices through a simple stress test. This can be as easy as imagining your current program subjected to a hypothetical directive to quickly shift focus either to savings to meet a business shift toward cost sensitivity or toward program enhancements to accomplish a goal such as attracting talent into a new market or corner of your business. Could you nimbly shift volume between available tiers or types of policies? Are there any notable gaps in benefits, supply chain support or services? Are any benefits dated, too generous, rarely used or driving poor employee experiences? What did you learn over the past couple of years as we navigated a very uncertain climate and can these learnings be formalized into all-weather strategies for your program going forward?
An investment of time to consider these questions today will hopefully position you and your team for success in the face of whatever the future of mobility may hold.